Capolavori a confronto. Uomini illustri in un viaggio immersivo tra Como e gli Uffizi
Pinacoteca Civica, May 15 – September 19, 2021
Free entrance – Reservation required here
Presenze assenti: Plinio il Vecchio e la Naturalis Historia
Un dialogo, vivace, serrato e distante, lega Paolo Giovio, Niccolò Leoniceno, Leonardo da Vinci e Baldassarre Castiglione alla figura di Plinio il Vecchio e alla sua opera enciclopedica, la Naturalis Historia. Questa prima tappa di avvicinamento alle celebrazioni del bimillenario pliniano intende celebrare l'alterna fortuna di Plinio attraverso lo sguardo retrospettivo e il filtro delle opere letterarie e artistiche degli Uomini Illustri, tra Umanesimo e Rinascimento. Consultata, citata, epitomata già in antico, diffusa nelle corti e nei monasteri dell'Europa carolingia, la Naturalis Historia rappresenta non solo un ponte tra la cultura greca e il mondo romano ma, soprattutto, un fil rouge che dalla tarda antichità attraversa il Medioevo e l'età moderna, riverberandosi fino ai giorni nostri.
The OltrePlinio project, in collaboration with the Comune of Como, the Fondazione "A. Volta" and the Gallerie degli Uffizi, has given its scientific support to this exhibition, dedicated to the collection of portraits that Paolo Giovio commissioned in the 15th century to decorate his home in Como. Gianfranco Adornato has selected the portraits on display, in order to connect works and activities by Paolo Giovio, Niccolò Leoniceno, Leonardo Da Vinci e Baldassar Castiglione to the reception of Pliny the Elder and the Naturalis Historia during the Renaissance. 
Read more on the Fondazione A. Volta website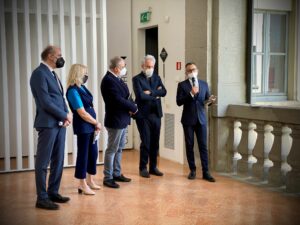 Press: Corriere di Como | Il Fatto Quotidiano | ComoZero | PrimaComo | Ansa.it Lombardia | CiaoComo | AgCult | ComoCity | Artribune | Giornale di Sicilia | Como Lake Experience | Arte.it | EspansioneTV | Tiscali Cultura | QuiComo
Photos: Massimiliano Mondelli | © Pinacoteca Civica di Como e Gallerie degli Uffizi